The America you know and love is gone.
The "spacious skies and amber waves of grain" still are here. The "broad stripes and bright stars" still wave. "The mountains, the prairies, the oceans white with foam," all still there.
But they are just window dressing.
The traditional America, the America that welcomed the tired, the poor, the masses yearning to breathe free, the America where someone could rise from the depths of poverty and reach for the stars — the democracy America — that America is gone, replaced by a right-wing, bigoted, hate-mongering, fascist America.
Perhaps, it all was an illusion. Perhaps that kind, generous, one-for-all, -and-all-for-one never really existed. Perhaps we only dreamed it.
But what a beautiful dream.
We did have it for a moment, back in the early 1940s, when Hitler, Mussolini, and Hirohito were reviled dictators, and we clung together to fight against such monsters and for "Liberty for All."
But after the monsters were defeated, their shadow lurked in the background, and now a new monster has returned, sporting the same old hate-based clothing, waving our flag but telling the same old anti-democracy, "me-first, me-only" lies.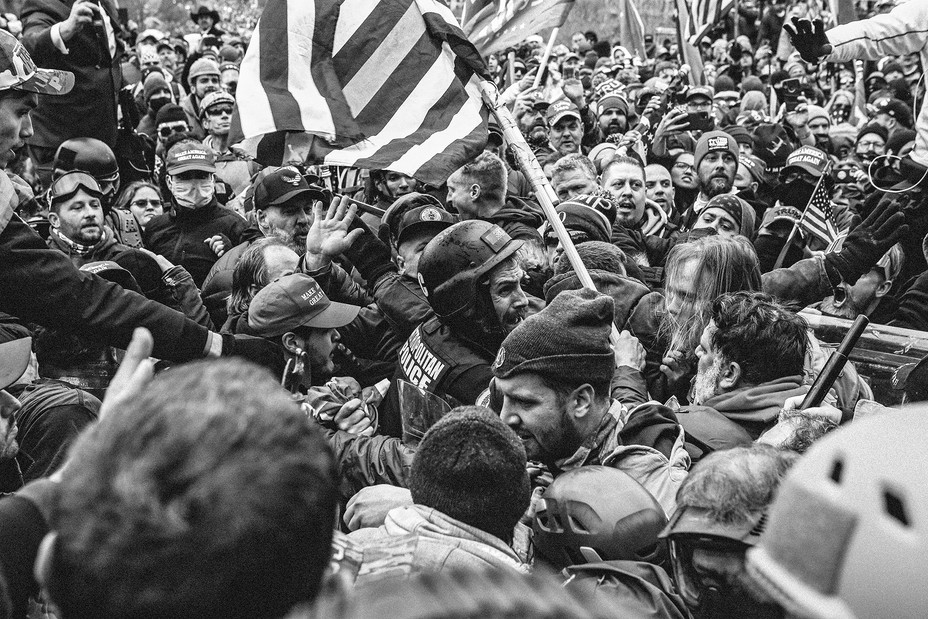 They always were there, of course, the haters and bigots, the Ku Klux Klan, the anti-semites, the communists, the torch-bearing marchers for Naziism, but they never were the real America.
They were mocked as some alien thing, foreign to our welcoming heritage.
Surely, the disgrace of the slavery-funded South would be seen as an aberration to our "all-men-are-created-equal" ethos. Surely the spirit of America will not die, crushed in the hands of a lying, ignorant, bigoted tyrant.
That could not happen here. Surely.
And yet . . . Infowars, Fox News, QAnon, Alex Jones, conspiracy theories, Donald Trump all seem to indicate that slavery and bigotry are not aberrations, but are fundamental, at least to a large segment of the American population.
Perhaps that is the reason for the panicked, right-wing response to teaching about racism in America.
The right would have you believe that merely teaching the facts of racism is accusatory, and designed to make our children feel guilty.
As usual with the right, it's a lie, and also as usual, the facts are distorted or denied (as are facts about election honesty, global warming, police bigotry, vaccination, Muslims, gays, Mexicans, immigrants, the poor, and Trump himself.)
If you get your information via Tucker Carlson and Fox, you are sadly misinformed.
Freedom, democracy, and fairness are not to be taken for granted. They are fragile features, even of America, that must be protected with both hands.
TRUMP'S NEXT COUP HAS ALREADY BEGUN
January 6 was practice. Donald Trump's GOP is much better positioned to subvert the next election.
By Barton Gellman
DECEMBER 6, 2021

Technically, the next attempt to overthrow a national election may not qualify as a coup. It will rely on subversion more than violence, although each will have its place.

If the plot succeeds, the ballots cast by American voters will not decide the presidency in 2024. Thousands of votes will be thrown away, or millions, to produce the required effect.

The prospect of this democratic collapse is not remote. People with the motive to make it happen are manufacturing the means. Given the opportunity, they are acting already.

"The democratic emergency is already here," Richard L. Hasen, a professor of law and political science at UC Irvine, told me. "We face a serious risk that American democracy as we know it will come to an end in 2024," he said.

For more than a year now, Republican operatives have been building an apparatus of election theft.

Elected officials in Arizona, Texas, Georgia, Pennsylvania, Wisconsin, Michigan, and other states have studied Donald Trump's crusade to overturn the 2020 election. Some of them have rewritten statutes to seize partisan control of decisions about which ballots to count and which to discard, which results to certify and which to reject.

They are driving out or stripping power from election officials who refused to go along with the plot last November, aiming to replace them with exponents of the Big Lie. They would allow state legislators to override the choice of the voters.

Trump and his party have convinced a dauntingly large number of Americans that the essential workings of democracy are corrupt, that made-up claims of fraud are true, that only cheating can thwart their victory at the polls, that tyranny has usurped their government, and that violence is a legitimate response.

Donald Trump will win the Republican nomination for president in 2024. The party is in his thrall. No opponent can break it and few will try. Neither will a setback outside politics—indictment, say, or a disastrous turn in business—prevent Trump from running. If anything, it will redouble his will to power.

Virtually no one a year ago, predicted that Trump could compel the whole party's genuflection to the Big Lie and the recasting of insurgents as martyrs.

Trump has reconquered his party by setting its base on fire through black clouds of his smoke. His deepest source of strength is the bitter grievance of Republican voters that they lost the White House, and are losing their country, to alien forces with no legitimate claim to power.
To Trumpers, everyone not white, not born here, not Christian, and most importantly, not a Trump toady, is an enemy.
Jews, Muslims, blacks, browns, immigrants, and of course, those who seek truth, commit political and social suicide when supporting Trump and his minions.
The GOP, and especially the Trump GOP markedly favors the rich over the not-rich. That is why the GOP so strongly opposes benefits such as Medicare, Medicaid, Obamacare, Social Security, and other anti-poverty initiatives, while favoring massive spending increases for the military/industrial complex plus increased taxes on the middle classes.
Not only is the right-wing anti-democracy, but it is anti-science while being pro-religion. The three ideologies — anti-democracy, anti-science, and pro-religion — have combined through the ages to produce theocracies, the most repressive dictatorships in world history.
In a theocracy, the leader pretends to speak the "word of God."
Thus he/she never can be wrong, never even can be criticized, never can be unelected, and even simple lack of support can be considered blasphemous.
That that is the world Donald Trump and his right-wing Foxlings wish for us, now with the probable support of his right-wing Supreme Court.
The US Supreme Court on Wednesday took up a case that asks whether schools that make the bible an essential teaching tool and reject gay and transgender studentscan receive government funding.

The nine-judge court featuring six conservatives were considering a school aid program in the northeast state of Maine and will render a decision in the spring of next year.

Parents can choose public or private schools, in Maine or another state, and even schools affiliated with religion, so long as the teaching there is not "sectarian."

Two evangelical Christian families have sued to be able to use the education subsidy money to send their kids to religious schools.

In denying them a spot in the program, local authorities argue that one of these private schools "teaches children that the husband is the leader of the household" and encourages kids to recognize "God as Creator of the world."

The other makes use of the bible in all academic subjects. Both of them mix religious and academic teaching and do not accept LGBTQ students or employees.
Religious schools would legally be allowed to exercise bigotry against LGBTQ people, and anyone else, while using public money.
Both sides in the argument invoke the 1st Amendment to the US Constitution, which guarantees freedom of religion but forbids any law "respecting an establishment of religion."

The parents who sued — they are backed by a dozen or so Republican senators, 20-odd conservative-ruled states and many religious institutions — insist on the freedom of religion clause to say they have the right to choose a school that reflects their values and say they are suffering discrimination because of their religious views.

The state of Maine says in turn that the clause on establishing a religion bars the use of government money to finance a religion.
It already may be too late to prevent the right-wing from establishing a Trumpian theocracy in America.
But for those of you who would welcome that form of government, and who believe it will protect you from criminal, "alien" hoards, I only can advise: Be careful what you wish for.
A dictatorship is a hole into which it is far too easy to slip and quite difficult to escape,  but a theocratic dictatorship is nearly impossible to cure.
And when that happens, the America you think you love, will be gone.
SUMMARY
There can be little question about the fact that Donald Trump wishes to set up a dictatorship with him as dictator, and that under his leadership, the GOP is doing everything it can to eliminate or negate the votes of those who do not support Trump or the GOP.
While it is one thing for a political party to try to win votes on the basis of merit, it is another thing entirely, for a party to try to prevent people from voting or to prevent their votes from counting.
The former is the natural democratic competition among ideologies, while the latter is the road to authoritarianism and tyranny.
Further, there is no doubt that many in Trump's base, perhaps the majority, would welcome a theocracy in which Christianity (of course) not only would become the ruling religion of America, but that Christian religious leaders would become our unelected monarchs.
It has happened all over the world; America is not immune.
Lest you believe it is unlikely here, answer this: Did you predict that armed traitors would attack Congress, trying to intimidate Congress into ignoring or reversing our election, while waving Trump, rebel, and American flags, and that the Republican party would excuse the attackers and support their leader?
What's next that you haven't predicted?
Rodger Malcolm Mitchell
Monetary Sovereignty
Twitter: @rodgermitchell
Search #monetarysovereignty
Facebook: Rodger Malcolm Mitchell
……………………………………………………………………..
THE SOLE PURPOSE OF GOVERNMENT IS TO IMPROVE AND PROTECT THE LIVES OF THE PEOPLE.
The most important problems in economics involve:
Monetary Sovereignty

describes money creation and destruction.

Gap Psychology

describes the common desire to distance oneself from those "below" in any socio-economic ranking, and to come nearer those "above." The socio-economic distance is referred to as

"The Gap."
Wide Gaps negatively affect poverty, health and longevity, education, housing, law and crime, war, leadership, ownership, bigotry, supply and demand, taxation, GDP, international relations, scientific advancement, the environment, human motivation and well-being, and virtually every other issue in economics. Implementation of Monetary Sovereignty and The Ten Steps To Prosperity can grow the economy and narrow the Gaps:
Ten Steps To Prosperity:
The Ten Steps will grow the economy and narrow the income/wealth/power Gap between the rich and the rest.
MONETARY SOVEREIGNTY