The needs of the right are simple.
So long as you are pro-rich, anti-poor, hate those who are not white or not Christian, love guns, and hate abortions for poor women (rich women always can get abortions), you will get the vote of the right-wing.
You can be a lying, crooked, con artist, a draft-dodging, irreligious hypocrite. You can "shoot someone on 5th Ave." You can be a psychopath or have every bad characteristic known to humanity.
It won't matter to the religious right. You will get their vote, and not just their vote, but their passionate, unrelenting, angry support.
Yes, the needs of the right are simple.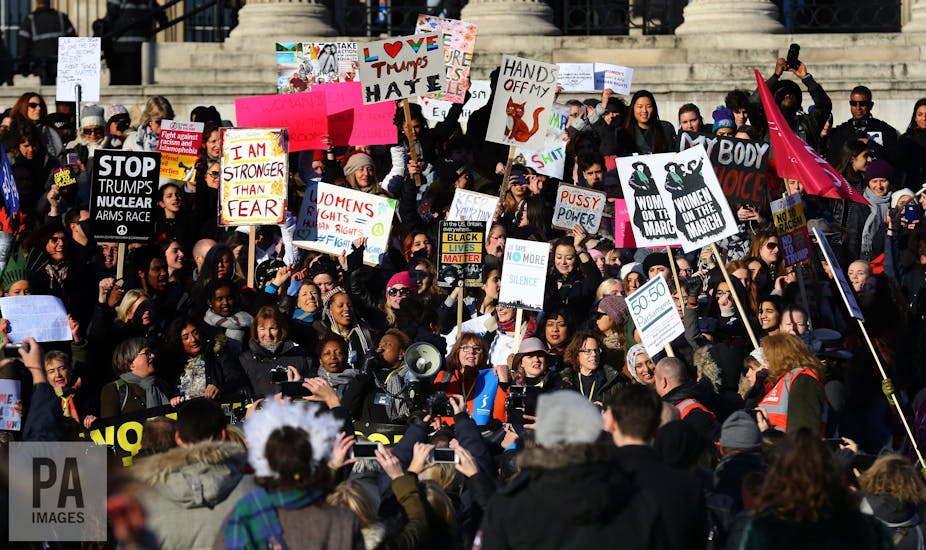 No so, the left.
The left is far more complex, so complex, in fact, that is is impossible for one human to meet all their criteria.
You could be pro-poor, anti-rich, pro-black, pro-brown, pro-gay, pro-trans, pro-Jew, pro-Muslim, pro- or anti-abortion, pro-Christian, pro-atheism, pro-women, pro-government, pre-reusable energy, pro- or anti mixed marriage, anti-government, pro- or anti-socialist, pro-immigration, anti-nazi, pro- or anti-guns, pro-or anti-death penalty, pro-or anti-deficit spending, pro-equality, pro-or anti-states' rights, pro-or anti-democracy, pro- or anti incarceration, pro- or anti-union, a social liberal, a progressive, pro- or anti-military, pro-or anti-police, or any combination of the preceding.
You could be a Keynesian, a communist, pro-or anti-globalist, a Marxist, or a revolutionist, tough on crime or easy on crime.
No matter which of the above you favor, you would find yourself opposed by the majority of the left.
You would not be considered "pure" enough or "too extreme."
And that is why an incompetent, unintelligent, immoral, swindler like Donald Trump, who clearly hates the duties of the President, but loves the power — that is why he polls well above what one might expect, no matter what he does or fails to do.
If a left-leaning politician is discovered cheating on his wife, he is done or at least, impeached. When Trump cheats on three wives — and brags about it — that is a feature, not a bug.
If any family member of a left-leaning politician takes money for doing nothing, that is a scandal. For Trump, nepotism is a way of life.
When Obama wrongly promised, "You will be able to keep your current health care plans and doctors," it became an endless, political scandal, on both the left and the right. When Trump wrongly promised, "Mexico will pay for the wall," the right-wing shrugged.
Consider a left-leaning politician caught cheating on his taxes. Compare that with Trump Foundation.
Trump has hired, then fired, more administration people than any President in history, demonstrating an astounding level of executive incompetence. Who cares? The right-wing worships him. For the left, it would be a terrible black mark.
All of the above is why Joe Biden will have November competition from the left. I don't know who they will be, but whoever he/she or they are, they will take votes from Biden and in so doing, help Trump stay in office.
No one can be "pure enough" without being "too extreme" to satisfy enough of the left.
As the campaigning goes into the final months and weeks, almost as much criticism of Biden will come from the left as from the right, while very little criticism of Trump will come from the right.
Watch for it.
Rodger Malcolm Mitchell
Monetary Sovereignty Twitter: @rodgermitchell Search #monetarysovereignty Facebook: Rodger Malcolm Mitchell …………………………………………………………………………………………………………………………………………………………………………………………………………………………………………………………………………………………..
THE SOLE PURPOSE OF GOVERNMENT IS TO IMPROVE AND PROTECT THE LIVES OF THE PEOPLE.
The most important problems in economics involve:
Monetary Sovereignt

y

describes money creation and destruction.

Gap Psycholog

y

describes the common desire to distance oneself from those "below" in any socio-economic ranking, and to come nearer those "above." The socio-economic distance is referred to as

"The Gap."
Wide Gaps negatively affect poverty, health and longevity, education, housing, law and crime, war, leadership, ownership, bigotry, supply and demand, taxation, GDP, international relations, scientific advancement, the environment, human motivation and well-being, and virtually every other issue in economics. Implementation of Monetary Sovereignty and The Ten Steps To Prosperity can grow the economy and narrow the Gaps:
Ten Steps To Prosperity:

2. Federally funded Medicare — parts A, B & D, plus long-term care — for everyone

3. Social Security for all or a reverse income tax

4. Free education (including post-grad) for everyone

5. Salary for attending school

6. Eliminate federal taxes on business

7. Increase the standard income tax deduction, annually. 

8. Tax the very rich (the ".1%") more, with higher progressive tax rates on all forms of income.

9. Federal ownership of all banks

10.Increase federal spending on the myriad initiatives that benefit America's 99.9% 
The Ten Steps will grow the economy and narrow the income/wealth/power Gap between the rich and the rest.
MONETARY SOVEREIGNTY