Thinking about Donald Trump's misdeeds is like drinking from the proverbial fire hose. There are so many illegal and immoral actions they blend into a giant gusher of criminality.
Trump University, Trump Foundation, refusal to show tax returns, nepotism, profiting from the Presidency, false claima that tariffs make China pay millions into the U.S. Treasury, cheating on multiple wives, torturing children at the border, his rampant bigotry, twelve thousand lies, Mexico to pay for the wall, misogyny,  bigotry, admiration of murderous dictators, the list goes on and on.
His followers repeatedly ignore the obvious, and in doing so, they become enablers for future misdeeds. Trump has been made to believe he can do anything, say anything, commit any outrages, and not be punished.
But this time, he has stepped over a line that even the most hypnotized of his followers cannot ignore. The ten words that finally should doom his presidency are:
Trump solicited a foreign government to interfere in American elections.
The foundation of America as a great nation is our free elections. Everything else, of which we are proud, emanates from there.
You are witness to history. Our President — our President! — tries to subvert our free elections by engaging in a covert operation with a foreign government to destroy the primary thing that defines America.
Traitors have been hung for less.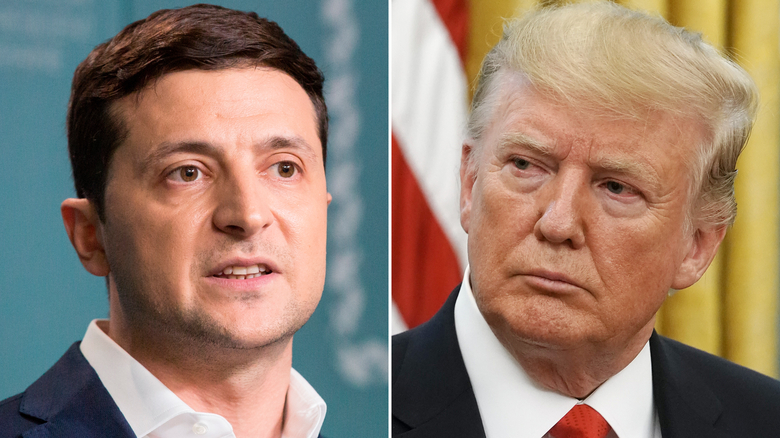 Here is the background: Trump held back almost $400 million in Congressionally approved, military aid for Ukraine at least a week before the notorious phone call to Volodymyr Zelenskyy, the president of Ukraine.
It's a short phone call. Just a few minutes.
The sole purpose was to remind Zelenskyy that  America was withholding those millions from Ukraine, and in return for our giving him the money, he should do Trump a favor: Dig up dirt on Trump's key political opponent, before the elections, so as to change the outcome.
You can read the full transcript here, but the following are the key passages.
First, Trump, in his rambling, babbling style, reminds Zelenskyy that "we" have been very good to Ukraine:
I will say that we do a lot for Ukraine. We spend a lot of effort and a lot of time. Much more than the European countries are doing and they should be helping you more than they are. Germany does almost nothing for you.

All they do is talk and I think it's something that you should really ask them about. When I was speaking to Angela Merkel she talks Ukraine, but she doesn't do anything.

A lot of the European countries are the same way so I think it's something you want to look at but the United States has been very very good to Ukraine.
Then, Trump suddenly realizes this reveals he's asking for a quid pro quo, a payment for a political favor, so he says:
I wouldn't say that it's reciprocal necessarily because things are happening that are not good but the United States has been very, very good to Ukraine.
Trump thinks he is being so very subtle in reminding Zelenskyy that the U.S. is holding back hundreds of millions of dollars in military assistance that Congress appropriated, and he (Trump) has the power to release the money.
So, it's not reciprocal "necessarily," but . . . oh well, it is reciprocal.
Then Trump asks for his favor:
I would like you to do us a favor though because our country has been through a lot and Ukraine knows a lot about it. I would like you to find out what happened with this whole situation with Ukraine, they say Crowdstrike . . .
"Crowdstrike " refers to a conspiracy theory Rudy Guiliani has invented, regarding stolen E-mails.
Then comes the heart of the "favor:"
"Mr. Giuliani is a highly respected man. He was the mayor of New York City, a great mayor, and I would like him to call you.

"I will ask him to call you along with the Attorney General. Rudy very much knows what's happening and he is a very capable guy. If you could speak to him that would be great.

"There's a lot of talk about Biden's son, that Biden stopped the prosecution and a lot of people want to find out about that so whatever you can do with the Attorney General would be great.

"Biden went around bragging that he stopped the prosecution so if you can look into it… It sounds horrible to me."
Here, Trump has asked a foreign leader to interfere in America's elections by getting dirt on his opponent and his opponent's son.
It's an illegal request, but Trump believes he will get away with it. Zelenskyy agrees to do the "favor." Anything for that $400 million.
Since we have won the absolute majority in our Parliament, the next prosecutor general will be 100% my person, my candidate, who will be approved by the parliament and will start as a new prosecutor in September.

He or she will look into the situation, specifically to the company that you mentioned in this issue.

The issue of the investigation of the case is actually the issue of making sure to restore the honesty so we will take care of that and will work on the investigation of the case.

On top of that, I would kindly ask you if you have any additional information that you can provide to us, it would be very helpful for the investigation.
Zelenskyy asked Trump for additional information to "help with the investigation" of Trump's political opponent and his son.
Zelenskyy assures Trump he will do the favor:
I also want to ensure you that we will be very serious about the case and will work on the investigation.
Trump says he will tell his two primary political operatives to call:
I will tell Rudy and Attorney General Barr to call.
Not only has Trump committed treason, but you'll recall that this is not the first time.
"Russia, if you're listening, I hope you're able to find the 30,000 emails that are missing," he said, referring to the Democratic nominee Hillary Clinton's deleted messages. "I think you will probably be rewarded mightily by our press."
"Rewarded mightily by our press," means, "I will be grateful."
Perhaps, some Americans have become so numbed by Trump's repeated transgressions that nothing he says or does can shock anymore.
And, perhaps he was right when he said, "I could stand in the middle of Fifth Avenue and shoot somebody and wouldn't lose any voters."
And perhaps committing crimes (Trump University, Trump Foundation) and repeatedly lying (Trump 12,000 lies) did not matter to his hypnotized followers.
But this latest outrage has gone far beyond anything Americans can ignore.
"Trump has already admitted the essentials – he called a foreign leader and asked him to use the legal engines of a foreign government to produce dirt on Trump's American political rival," said Frank Bowman, a law professor at the University of Missouri who has written a book about impeachment.

Paul Rosenzweig, a former federal prosecutor in Washington who worked on the special counsel investigation into Bill Clinton, said, "The founders spoke about things like promising pardons to your friends to protect your own criminality. They spoke about things like people being beholden to foreign governments. They spoke about profiting from the presidency."
Trump flaunts his criminality in our faces and dares us to do something about it. This time the ten words finally may bring Trump's followers to their senses and bring Trump to justice.
Trump solicited a foreign government to interfere in American elections.
A President trying to undermine our free elections, the foundation of American democracy. It doesn't get worse than that.
Rodger Malcolm Mitchell
Monetary Sovereignty
Twitter: @rodgermitchell
Search #monetarysovereignty Facebook: Rodger Malcolm Mitchell
MONETARY SOVEREIGNTY