Informative article: How the European countries are doing a much better job than the GOP-dominated U.S.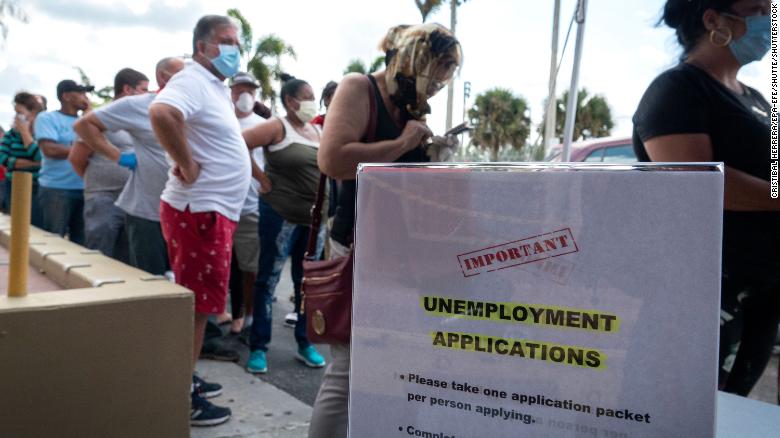 How Europe is bailing out its workers
The Week Staff May 9, 2020

European countries are paying workers who've been sent home by employers. Can they afford it? Here's everything you need to know:

What is their plan?
Unlike the U.S., where some 30 million people have filed for unemployment and millions of gig workers are going without income, most European workers are still getting paid through their employers.

But instead of requiring workers to apply for unemployment and sending them a $1,200 bailout check, many European Union countries chose to begin paying part of their workers' salaries, so companies would not have to fire them.

Germany, for example, is paying workers about 60 percent of their wages up to a cap of $7,575 a month, and France, Spain, Denmark, and the Netherlands have similar plans, although with lower caps.

The U.K. is paying up to 80 percent of wages, capped at $3,100 a month. Employers generally have to cover payroll up front and then get reimbursed by the government. For the self-employed, federal or local governments are providing direct cash assistance.
Despite being monetarily non-sovereign, and so, not having the unlimited ability to create euros, the euro nations are trying to live up to the fundamental purpose of any government: To protect and improve the lives of the people.
By contrast, the Monetarily Sovereign U.S. government, nominally led by Donald Trump, but actually led by Mitch McConnell and Fox News, has penny-pinched it's way to massive unemployment and poverty. This, despite having the unlimited ability to create its own sovereign currency, the U.S. dollar.
Our right-wing-dominated government has amply demonstrated its disdain for the middle- and lower-income groups by trying to eliminate ACA with no plan to take its place, and by cutting taxes on the rich.
And let us not forget the pro-rich, anti-everyone-else tax cuts and reductions in poverty aids.
Today, the government continues its pro-rich, anti-everyone-else path by failing to support the unemployed and the impoverished, and by fighting against the meager ant-recession proposals of the left-wing.
To the right, federal money is tight when it doesn't help the rich, but ample when it does.
Getting back to Europe, it is astounding that monetarily non-sovereign Germany has a higher cap on wage support ($3,100) than does Monetarily Sovereign England ($7,575), though with a lower percentage of wages.
Germany needs to get the money from taxpayers; England merely presses computer keys to create the money.
Yes, it is astounding , but not as astounding as the federal government's intentional underpaying.
Why does the unlimited-ability-to-spend U.S. government intentionally underpay? Answer: To benefit business by creating a massive supply of desperate workers, who are willing to accept any jobs at low wages.
The most astounding aspect of this entire sham is that so many of those desperate lower- and middle-income people vote for the very politicians who made them desperate and lower income in the first place.
To avoid layoffs in times of slow production, Germany innovated a scheme called Kurzarbeit, or short-time work. When firms have fewer orders, they cut back on workers' hours, and the government pays the salary difference.

When business picks up, companies simply increase workers' hours. During the 2008 financial crisis, the number of unemployed workers went up just 9 percent in Germany, compared with 56 percent in the U.S.

"We have one of the strongest welfare states in the world," says German Labor Minister Hubertus Heil, "and we have built up reserves for difficult times during good times."

Other EU countries have modeled their payments on that system.
In most of the world, "welfare" is a good thing, meaning "benefit" or "well-being." Governments are created to do things for the welfare of their people.
In America however, "welfare" has come to be a cruel epithet that translates to: "Support for the lazy good-for-nothing poor." Thus have our hearts hardened.
How many people are covered?
As of mid-April, at least 18 million European workers were working less or not at all — and with each passing week, the numbers are growing. Management consulting firm McKinsey estimates that up to 59 million jobs in the EU and the U.K. are in jeopardy, a staggering 26 percent of total employment.

That compares with some 54 million at risk in the U.S.

In France alone, some 785,000 companies have applied for wage subsidies for about 9.6 million workers — half the private-sector workforce. In Ireland, some 40 percent of all workers are now on government aid.

In hard-hit Spain, which already had unemployment of 13 percent, the rate could soar to 20 percent. Germany, by contrast, predicts a bump from 5.2 percent unemployment to 5.9 percent.
The primary issue is not unemployment. Labor is not the primary goal for most people. The primary goal is income.
Sadly, the very rich, who incidentally, labor less than any other income group, have been able to make employment a necessity.
"Unemployment" is defined as wanting a job but not having one. If someone, for instance a spouse, does not have a job, and is not looking for one, that person is not unemployed.
But if the same spouse is looking for a job, and can't find one, that same spouse is unemployed.
So what do unemployment figures tell us about the health of the economy? Missing from those figures is federal stimulus actions.
If the federal government were to, say, raise unemployment compensation to 100% of previous income, unemployment figures would have very little economic meaning (depending on whether there remained enough workers to produce what we need).
I foresee a time when machines will do so much that the vast majority of us will not be employed for wages, yet we still will have a healthy economy.
How much will this cost?
It depends on how long the crisis lasts.

In Britain, assuming one million people need assistance for three months, the tab will be about $51 billion, or 2 percent of the nation's economic output.

In France, the bill will be $21 billion for the next three months, but in Germany, because its benefits are so substantial anyway, the extra cost should be just $11 billion.
Keep in mind that "cost" means something different for such Monetarily Sovereign nations as Britain and the U.S. vs. monetarily non-sovereign nations like France and Germany.
The former can afford anything just by creating money. The latter must tap taxpayers for the needed money.
If the lockdowns continue longer than three months, or if the global economy falls into a depression that drags on for years, the toll for Europe could be in the trillions.
And that is why trillions must be added to the various economies. The U.S. alone, having dilly-dallied for months, has arrived at the place where about $7 trillion to $9 trillion in stimulus dollars will be needed to fend off a depression.
How will they pay for that?
The poorer countries like Italy and Spain — which are also some of the hardest hit by the virus — wanted the EU to issue "coronabonds" that would be dispensed to those nations that needed cash the most.

But fiscally conservative Germany and the Netherlands balked, saying that would make them pay for profligate budgets they don't control.

Instead, the European Commission plans to borrow $350 billion to provide a package of loans and grants to governments.

To pay the loan back — the EU is not allowed to run a budget deficit — it proposes raising taxes on carbon emissions, plastics, or financial transactions, or some combination of those.
Europe has a massive problem. It needs to add net money to its economies, but is required by its own laws to borrow the money, which must be paid back to lenders.
So there will not be the net money, unless the EU changes its own laws.
How does this compare with the U.S.?
Some economists say that the U.S. system will help the economy rebound faster than in Europe, because it will allow laid-off workers to go where they're needed in the post–COVID-19 economy, rather than trapping them in industries that might not fully recover for years.

But the U.S. subsidies are far more expensive and complicated, and many workers and small businesses are falling through the cracks.

The U.S., with a population of 328 million to the EU's 446 million, has already spent more than $2.6 trillion on coronavirus rescue loans and grants.

The U.S. budget deficit is expected to reach at least $3.8 trillion this year. Nobel Prize–winning economist Joseph Stiglitz says the cost of following Europe's plan and paying workers directly would be "a fraction of what we're now spending."
What will help the U.S. economy's rebound is the fact that the federal government has the unlimited ability to create dollars, without borrowing and without taxing — net dollars to replace the dollars lost to closed businesses.
The advantage is not just that paying workers directly might be "a fraction of what we're now spending." The real advantage is that to the U.S., cost doesn't matter. The more the better.
And no, please don't get into the phony "inflation" argument. See: "Only 450 words answer the question, 'Does printing money cause inflation?'"
Contrary to popular myth, inflation is caused by shortages, usually shortages of food and/or energy, never by money "printing." Scarcity always causes price increases.
In fact, money "printing" can cure inflations, if the money is used to access the scarce items and distribute them to the public.
Italy's anger at the EU
Italy has the highest death toll from the virus in Europe, at more than 28,000 as of May 1.

But its rescue package of some $87 billion is smaller than that of other EU countries, because, (being monetarily non-sovereign) it simply can't afford much.

The EU's insistence on providing loans, rather than direct cash, to hard-hit governments of member states has frustrated Italy and raised fears of renewed years of punishing budget cuts.

As a result, simmering anti-EU sentiment is rising. An April survey found that 42 percent of Italians now favor leaving the bloc, up from 26 percent in November 2018.

Italian Prime Minister Giuseppe Conte warns that the pandemic poses a serious threat to the already strained bonds holding the EU together. "It's a big challenge to the existence of Europe," he said.
The Meteorology of Economics, Speech at the University of Missouri, KC by Rodger Malcolm Mitchell, June 5, 2005
[Because of the Euro, no euro nation can control its own money supply. The Euro is the worst economic idea since the recession-era, Smoot-Hawley Tariff. The economies of European nations are doomed by the euro.]
More true today than even in 2005.
Most of Europe really is doomed. Being monetarily non-sovereign forces a nation into financial helplessness during financial crises.
But, the U.S. will be doomed too, if Congress fails to take advantage of its Monetary Sovereignty and deficit spend adequately — a minimum of $7 trillion new dollars, perhaps more.
Rodger Malcolm Mitchell
Monetary Sovereignty
Twitter: @rodgermitchell
Search #monetarysovereignty Facebook: Rodger Malcolm Mitchell
…………………………………………………………………………………………………………………………………………………………………………………………………………………………………………………………………………………………..
THE SOLE PURPOSE OF GOVERNMENT IS TO IMPROVE AND PROTECT THE LIVES OF THE PEOPLE.
The most important problems in economics involve:
Monetary Sovereignt

y

describes money creation and destruction.

Gap Psycholog

y

describes the common desire to distance oneself from those "below" in any socio-economic ranking, and to come nearer those "above." The socio-economic distance is referred to as

"The Gap."
Wide Gaps negatively affect poverty, health and longevity, education, housing, law and crime, war, leadership, ownership, bigotry, supply and demand, taxation, GDP, international relations, scientific advancement, the environment, human motivation and well-being, and virtually every other issue in economics.
Implementation of Monetary Sovereignty and The Ten Steps To Prosperity can grow the economy and narrow the Gaps:
Ten Steps To Prosperity:

2. Federally funded Medicare — parts A, B & D, plus long-term care — for everyone

3. Provide a monthly economic bonus to every man, woman and child in America (similar to social security for all)

4. Free education (including post-grad) for everyone

5. Salary for attending school

6. Eliminate federal taxes on business

7. Increase the standard income tax deduction, annually. 

8. Tax the very rich (the ".1%") more, with higher progressive tax rates on all forms of income.

9. Federal ownership of all banks

10. Increase federal spending on the myriad initiatives that benefit America's 99.9% 
The Ten Steps will grow the economy and narrow the income/wealth/power Gap between the rich and the rest.
MONETARY SOVEREIGNTY