Here's a great idea Mr. President:
You know the people whose ancestors come from "sh*thole countries"? Well, for some reason, they are protesting against the police repeatedly singling them out for brutal treatment, often ending in death.
So here is what you can do to get their vote:
First, we'll gas all those peaceful protesters standing in front of the White House, so you can come out of hiding in your bunker and look tough.
You'll be able to criticize the governors who don't hide in bunkers for not being tough, while you refuse to support them financially, even at no cost to anyone.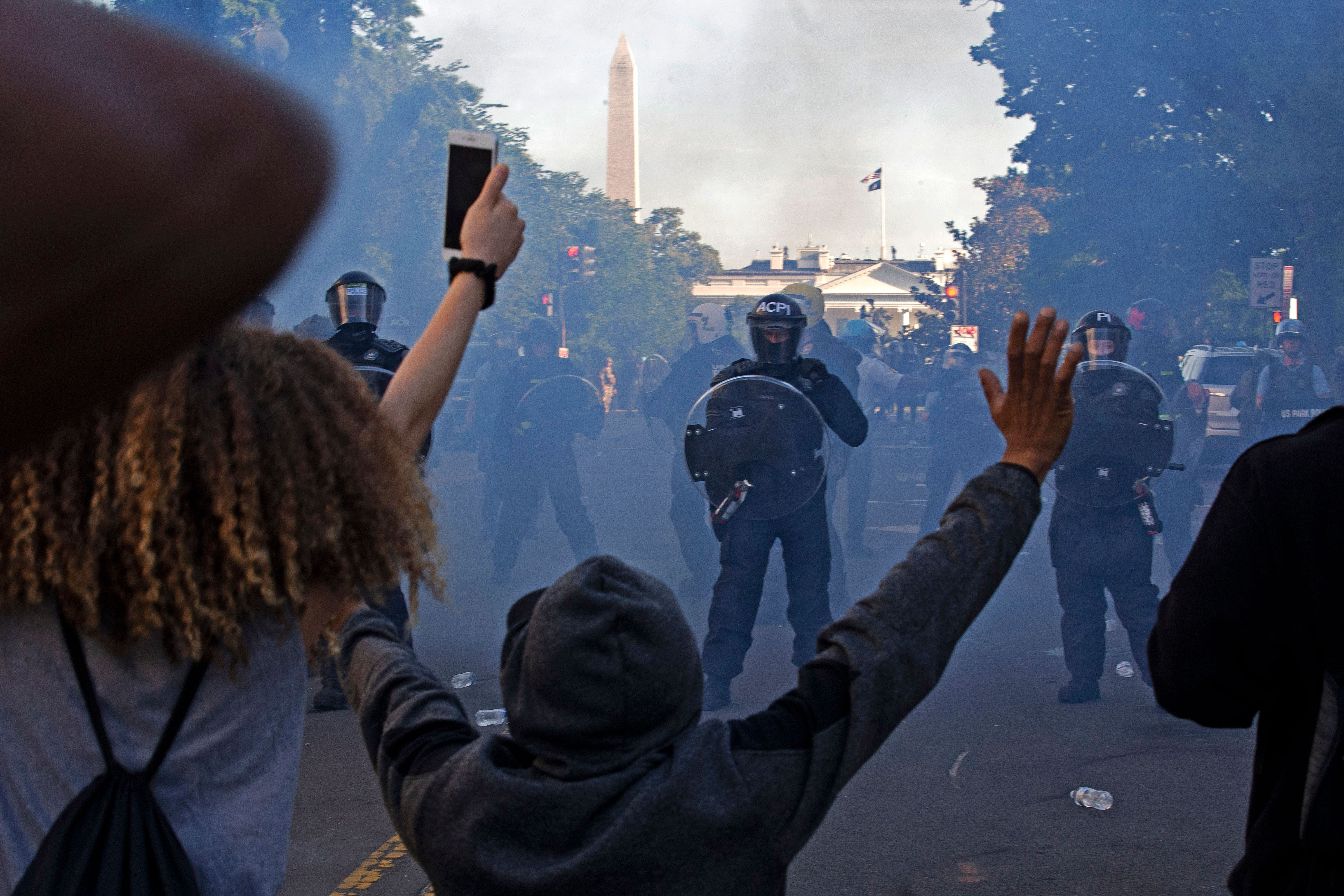 Then, we can clear a path for you to stride dramatically in front of all your bootlickers. You won't wear a mask, and so neither will your bootlickers, while every truthful non-bootlicker advises Americans to wear masks..
("Hey, who is that one tall woman back there wearing a mask?")
Don't worry, Mr. President, you can fire her this afternoon.
Then, you can stand in front of a church you've never attended, holding a book you've never read, and give a speech you didn't write and barely can read, telling how much you support the protesters you just gassed.
And, here's the good part.
You can end your speech by blasting Democrats, Obama, Hillary, governors, mayors,  Mexicans, blacks, the gays, the media, the one or two Fox newscasters who tell the truth, peaceful protesters, "the radical left," antifa (being careful not to mention the radical right, white supremacists and boogaloo), and you can finish it off by telling the camera we all should work together and how you have been making America great, again.
Then back to the safety of your bunker for more tweeting.
That should  make you popular among the "religious" right.
Does that work for you, Mr. President?
Rodger Malcolm Mitchell
Monetary Sovereignty Twitter: @rodgermitchell Search #monetarysovereignty Facebook: Rodger Malcolm Mitchell …………………………………………………………………………………………………………………………………………………………………………………………………………………………………………………………………………………………..
THE SOLE PURPOSE OF GOVERNMENT IS TO IMPROVE AND PROTECT THE LIVES OF THE PEOPLE.
The most important problems in economics involve:
Monetary Sovereignt

y

describes money creation and destruction.

Gap Psycholog

y

describes the common desire to distance oneself from those "below" in any socio-economic ranking, and to come nearer those "above." The socio-economic distance is referred to as

"The Gap."
Wide Gaps negatively affect poverty, health and longevity, education, housing, law and crime, war, leadership, ownership, bigotry, supply and demand, taxation, GDP, international relations, scientific advancement, the environment, human motivation and well-being, and virtually every other issue in economics. Implementation of Monetary Sovereignty and The Ten Steps To Prosperity can grow the economy and narrow the Gaps:
Ten Steps To Prosperity:

2. Federally funded Medicare — parts A, B & D, plus long-term care — for everyone

3. Social Security for all or a reverse income tax

4. Free education (including post-grad) for everyone

5. Salary for attending school

6. Eliminate federal taxes on business

7. Increase the standard income tax deduction, annually. 

8. Tax the very rich (the ".1%") more, with higher progressive tax rates on all forms of income.

9. Federal ownership of all banks

10.Increase federal spending on the myriad initiatives that benefit America's 99.9% 
The Ten Steps will grow the economy and narrow the income/wealth/power Gap between the rich and the rest.
MONETARY SOVEREIGNTY