It takes only two things to keep people in chains:
.
The ignorance of the oppressed
and the treachery of their leaders.
——————————————————————————————————————————————————————————————————————————————————————————–
Sometimes in life, things get so ridiculous, you simply have to laugh.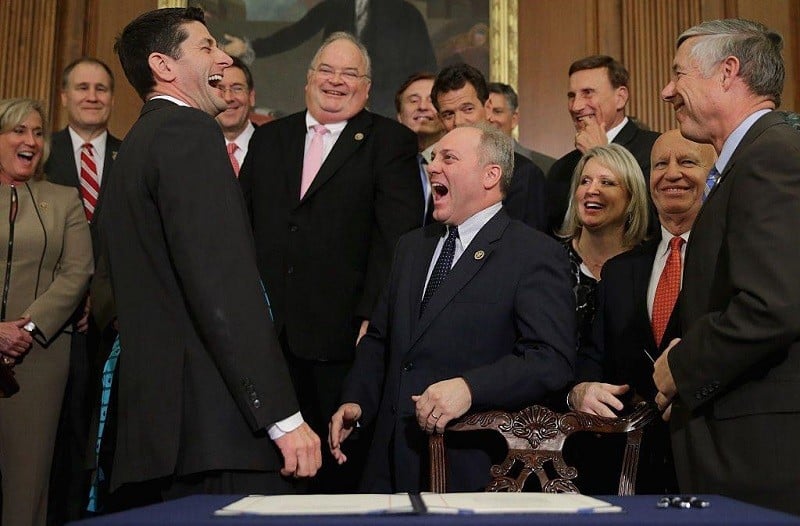 Want to see just a small list of the things these folks are laughing at? Go to:
To paraphrase John Donne: "Send not to know at whom the GOP laughs,
It laughs at thee."
Rodger Malcolm Mitchell
Monetary Sovereignty
Twitter: @rodgermitchell; Search #monetarysovereignty
Facebook: Rodger Malcolm Mitchell
………………………………………………………………………………………………………………………………………………………………………………………………………………………………………………………………………………………………………………………………………..
FACTS
•All we have are partial solutions; the best we can do is try.
•Those, who do not understand the differences between Monetary Sovereignty and monetary non-sovereignty, do not understand economics.
•Any monetarily NON-sovereign government — be it city, county, state or nation — that runs an ongoing trade deficit, eventually will run out of money no matter how much it taxes its citizens.
•The more federal budgets are cut and taxes increased, the weaker an economy becomes..
•No nation can tax itself into prosperity, nor grow without money growth.
•Cutting federal deficits to grow the economy is like applying leeches to cure anemia.
•A growing economy requires a growing supply of money (GDP = Federal Spending + Non-federal Spending + Net Exports)
•Deficit spending grows the supply of money
•The limit to federal deficit spending is an inflation that cannot be cured with interest rate control. The limit to non-federal deficit spending is the ability to borrow.
•Until the 99% understand the need for federal deficits, the upper 1% will rule.
•Progressives think the purpose of government is to protect the poor and powerless from the rich and powerful. Conservatives think the purpose of government is to protect the rich and powerful from the poor and powerless.
•The single most important problem in economics is the Gap between the rich and the rest.
•Austerity is the government's method for widening the Gap between the rich and the rest.
•Everything in economics devolves to motive, and the motive is the Gap between the rich and the rest..
MONETARY SOVEREIGNTY